How Employers Can Use Our Security Clearance Cards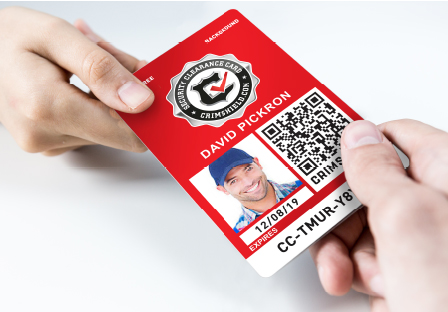 If your business has employees or uses contractors, CrimShield's Security Clearance Cards can be the perfect way to supply branded photo IDs, make your team more productive, and let customers know you're putting their safety first.

With our products you can make better hiring decisions while lowering your liability. There's less risk of theft, drug abuse, and violent crime when you screen your applicants and employees through CrimShield's team of investigators. Customers can scan Security Clearance Cards through QR-enabled phones and tablets to verify an employee's Crime-Free Certification before they allow them into a home or office. However, for added security, past employees cannot use their Security Clearance Cards to gain access to customers because cards can be deactivated when the employee leaves the company.

We don't just want to protect your business, though; we also want to make it easier for you to manage your personnel and their credentials. That's why our Security Clearance Cards feature:


Integration with our employee or contractor management tools so you can see who you have working for you at any given moment
The ability to deactivate credentials within minutes should they leave or employment is terminated
The flexibility to order new photo IDs from anywhere you have a web connection
With one phone call, you can get better photo IDs for your team, eliminate some of your biggest management headaches, and show customers that you're doing everything you can to protect them from convicted criminals all at the same time. Why settle for an ordinary company ID when you could get so much more?

To learn more about the ways organizations of all sizes can benefit from using CrimShield Security Clearance Cards, or to see how CrimShield's services can make your business safer and more profitable, contact CrimShield at 888-422-2547 today!
HOW CAN CRIMSHIELD HELP YOU?