About CrimShield Security Clearance Cards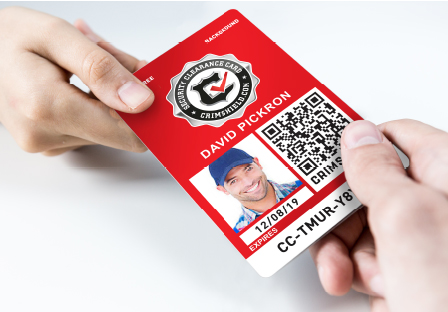 The biggest difference between your average photo ID and a CrimShield Security Clearance Card isn't what you see with the naked eye. Instead, it's in the trust and credibility you get from having a proven investigative team show that you or your employees are Crime-Free Certified.

Decades of performing personal investigations have taught us that roughly 17% of all applicants aren't able to pass our thorough screening process, even though they've previously gotten through an instant background check! But while individuals with criminal records often go undetected by computerized applications, they can't escape our researchers and investigators, who visit courts personally to verify identities and look into charges and convictions.

Because we go farther to ensure we aren't missing important details, or being fooled by false applications and misinformation, we are able to add a layer of protection our competitors can't. When you tell your customers, colleagues, and acquaintances that you've been Crime-Free Certified by CrimShield, it means something.

We don't just offer a better background check; we look at identity verification and personal investigations in an entirely different way. That includes:
Court records that are checked and verified at the federal, state, and local level
Screening that includes checks of government watch lists and sex offender registries
Customer-initiated annual Crime-Free Certification renewals
A Security Clearance Card that can be shown to colleagues, contacts, potential employers
Background screening by licensed investigators isn't just a part of what we offer; it's the backbone of our Security Clearance Card and the real difference between our product and everything else you'll find on the market. If you really want to show the people you meet that they can feel safer with you, contact CrimShield today at 888-422-2547. to get started with your application!
HOW CAN CRIMSHIELD HELP YOU?